NASA has launched a campaign for anyone who wishes to send their name to Mars, in the form of a boarding pass digitized on a chip incorporated in the next Mars 2020 mission. (Your name can be on Mars)
«Do you want to accompany me on Mars? Send your name to the surface of the red planet with the next rover of NASA, Mars 2020 », published the Twitter account of Curiosity, which explores our planetary neighbor since 2012.Ver imagen en Twitter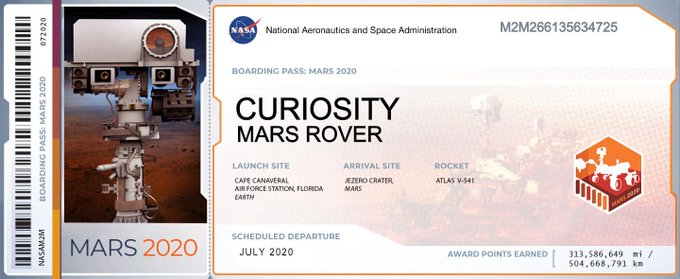 The tweet is completed with a link to a website that offers the form to fill out for the issuance of the personalized boarding pass. For example, we have completed ours, and Mystery Planet will be included among the names that will appear on the chip of the new rover to explore Mars.(Your name can be on Mars)
The ticket also includes "frequent flyer points", which add to the previous ones if you were attentive and participated, for example, in similar initiatives for other NASA missions, such as InSight and Parker Solar Probe al Sol (in our case we have accumulated more than 614,000 million kilometers!).
To send your name CLICK HERE . You have time until September 30.
Mars 2020
The Mars 2020 mission is scheduled to be launched in July 2020 from Cape Canaveral, and its arrival is expected in February 2021 in the Jezero crater.
The rover, which weighs about 1,000 kilograms, will look for signs of microbial life, as well as make climatic and geological investigations, collect samples and pave the way for future human exploration and colonization.(Your name can be on Mars)
Source: NASA